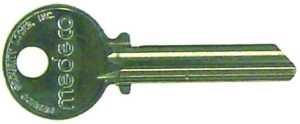 Duplicate Medeco Deadbolt Key Levels 2 & 4
AC13LLMEDKEY
Duplicate keys are available for the Medeco deadbolt lock.
This deadbolt lock is used on Level 2 and Level 4 lock levels. 
Key duplication requires the 9-character code found on the key tag sent with your original keys. Code begins with "6S" and is followed by four numbers and three letters.Cart2car
Duplicate keys are cut by the Medeco manufacturer and requires 4 weeks production time.
If you have lost the keys to your existing lock.  You will need to purchase a new lock here. 
Note: Duplicate Medeco keys are only available from Jayco Industries as the keyway is specifically designed for the Letter Locker® products. Each key is provided with a key tag that identifies a specific code.
You may also like
---